Monthly summary of new releases and articles - January 2016.
Jan 20, 2016
Releases

Left moving indicator displayed on top of row header (Scheduler).
DayPilot.Scheduler.makeDraggable(options) supports options.onDragStart event (args.data, args.preventDefault()).
DayPilot.Date.today() optimized (lower memory usage).
Debug log disabled by default.
DayPilot.Date.Cache.clear() added.
Timeline processing time reduced to 5% (Scheduler). Shortens the loading time of .days=365 and .scale="Hour" from 40 seconds to 2 seconds.
Default width for row header columns set to 20 (Scheduler).
Unused !cssOnly code removed (Scheduler).
Tutorials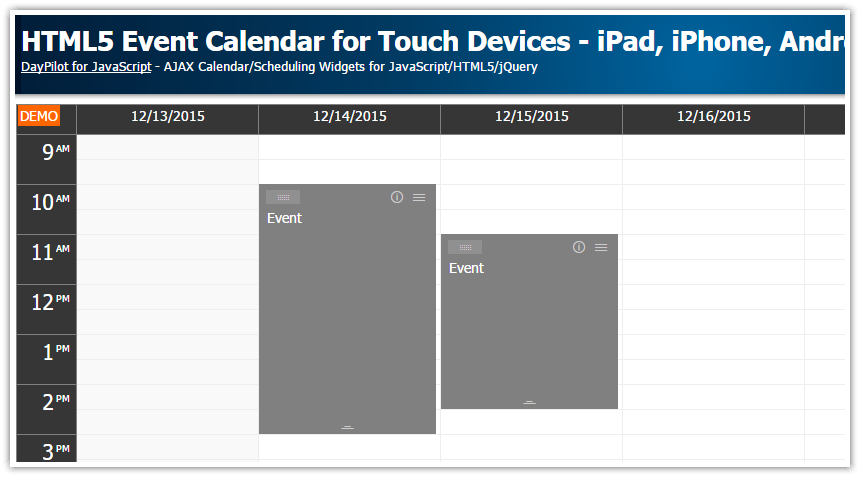 Support for iOS (iPad, iPhone) and Android devices (smartphones, tablets)
Uses DayPilot JavaScript Event Calendar
Custom drag and drop event move handle (desktop/touch)
Custom drag and drop event resize handle (desktop/touch)
Enabling event details on touch devices
Enabling context menu on touch devices
A set of UI action icons included (special font)
PHP backend with SQLite database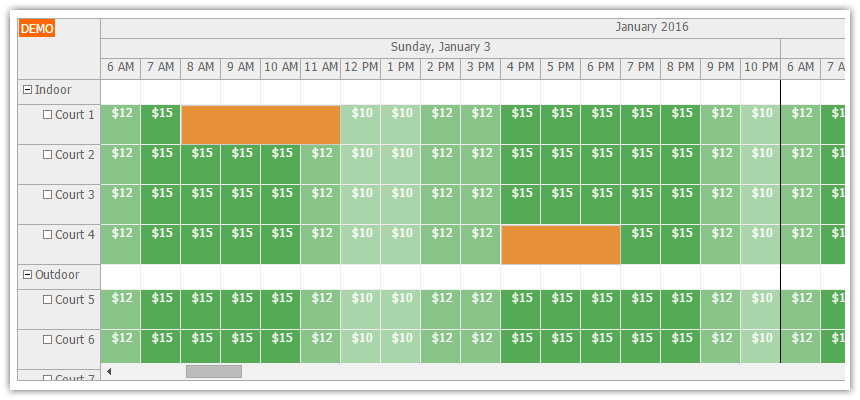 Multiple tennis courts, grouped by location (indoor, outdoor)
Public interface for visitors: see available time slots, book a time slot
Admin interface for staff: see and manage all reservations
Showing different prices depending on time of day
Prevents creating reservations in the past
PHP source code
SQLite sample database