This new tutorial shows how to export the event Scheduler to a PDF file in ASP.NET.
Jan 9, 2014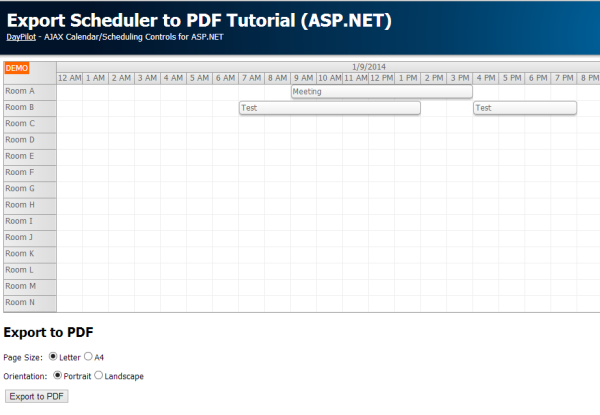 Tutorial:
Features:
Export to PNG
Export to PDF
Customized scheduler appearance (fonts, colors)
Multiple PDF page sizes (letter, A4)
PDF page orientation (portrait, landscape)
Custom PDF page header
Automatic image scaling to fill the page
DayPilot Pro for ASP.NET WebForms 7.6 Trial included
C# source code
VB.NET source code
Visual Studio 2010 solution
Visual Studio 2012 solution
Microsoft SQL Server database
The tutorial uses PDFSharp library to export the Scheduler view to PDF.
A sample Visual Studio project is available for download.
Sample code (C#):
private void ExportToPdf()
{   
  // create a new PDF document
  PdfDocument doc = new PdfDocument();
  doc.Info.Title = "DayPilot Scheduler PDF Export";
  doc.Info.Author = "DayPilot";

  // add a page
  PdfPage page = doc.AddPage();

  // set PDF page properties (size and orientation)
  page.Size = (PageSize) Enum.Parse(typeof (PageSize), ListPageSize.SelectedValue);
  page.Orientation = (PageOrientation)Enum.Parse(typeof(PageOrientation), ListPageOrientation.SelectedValue);

  // create graphics object for PDF page modification
  XGraphics gfx = XGraphics.FromPdfPage(page);

  // write title
  XRect titleRect = new XRect(new XPoint(), gfx.PageSize);
  titleRect.Inflate(-10, -15);
  XFont font = new XFont("Tahoma", 14, XFontStyle.Bold);
  gfx.DrawString("DayPilot Scheduler PDF Export", font, XBrushes.DarkGray, titleRect, XStringFormats.TopCenter);

  // create Scheduler image
  SetDataSourceAndBind();
  SetExportProperties();
  Bitmap bitmap = DayPilotScheduler1.ExportBitmap();

  // add the image to the PDF page
  XImage image = XImage.FromGdiPlusImage(bitmap);
  XRect imageRect = GetPaddedRectForImage(gfx, image, 10);
  double y = 40;
  imageRect.Y = y;
  gfx.DrawImage(image, imageRect);

  // save the PDF file to MemoryStream
  MemoryStream mem = new MemoryStream();
  doc.Save(mem, false);

  // send the output stream to the browser
  Response.Clear();
  Response.ContentType = "application/pdf";
  Response.AddHeader("content-disposition", "attachment;filename=scheduler.pdf");
  mem.WriteTo(Response.OutputStream);
  Response.End();
}