This tutorial shows how to create a timesheet PHP web application using AngularJs. Includes PHP source code and a sample SQLite database.
Mar 15, 2016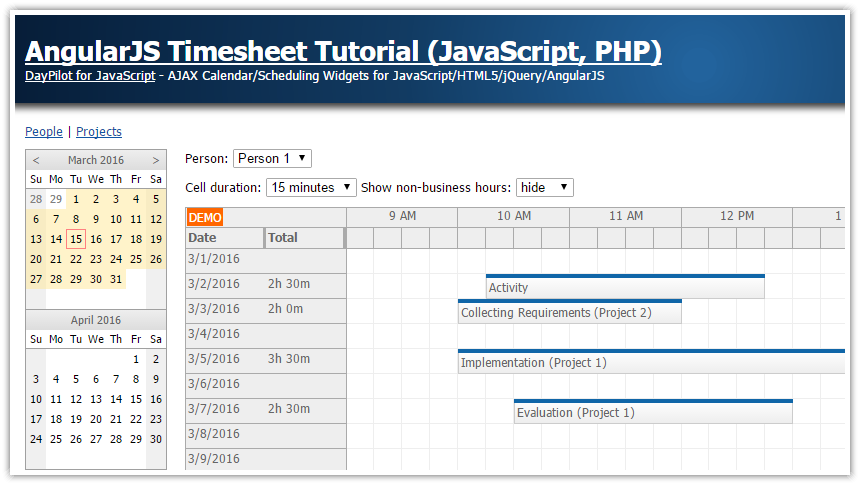 Features
Timesheet view (time spent by one person)
Project view (time spent on project, by people)
Drag and drop support
Daily summaries
AngularJS scheduler
Using Angular routes for navigation
Modal dialog for event editing
PHP backend
Sample SQLite database
Source code of the tutorial is available for download.
Example: Basic AngularJS Timesheet Configuration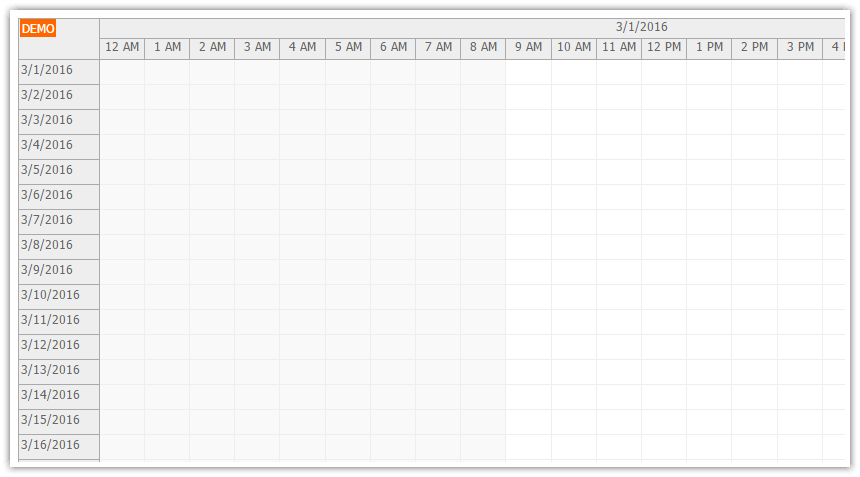 View (timesheet.html)
<!-- AngularJS -->
<script src="//ajax.googleapis.com/ajax/libs/angularjs/1.5.0/angular.min.js"></script>

<!-- DayPilot -->
<script src="js/daypilot/daypilot-all.min.js"></script>

<!-- controller -->
<script src="people.js"></script>

<!-- HTML -->
<div ng-app="timesheet.people" ng-controller="PeopleCtrl">
  <daypilot-scheduler id="dp" config="scheduler"></daypilot-scheduler>
</div>
Controller (timesheet.js)
var app = angular.module('timesheet.people', ['daypilot']);

app.controller('PeopleCtrl', function($scope) {

    $scope.scheduler = {
        viewType: "Days",
        startDate: DayPilot.Date.today().firstDayOfMonth(),
        days: DayPilot.Date.today().daysInMonth(),
        cellWidthSpec: "Auto"
    };
});