This tutorial shows how to create a doctor appointment scheduling application using AngularJS scheduler and event calendar controls. Includes a sample PHP project.
Oct 19, 2015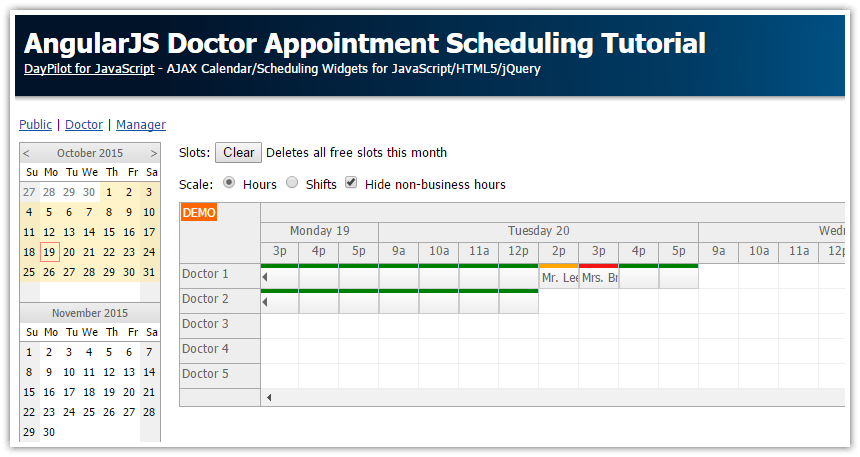 Features
Appointment reservation for multiple doctors
Management overview of all doctors, shifts and appointment slots
Defining appointment slots using drag and drop
Public interface with an option to request an appointment in one of the available slots
Uses DayPilot AngularJS Scheduler and Event Calendar controls
Sample project with PHP backend, storing data in a SQLite database
Source code of the tutorial is available for download.
Example: Public Patient Interface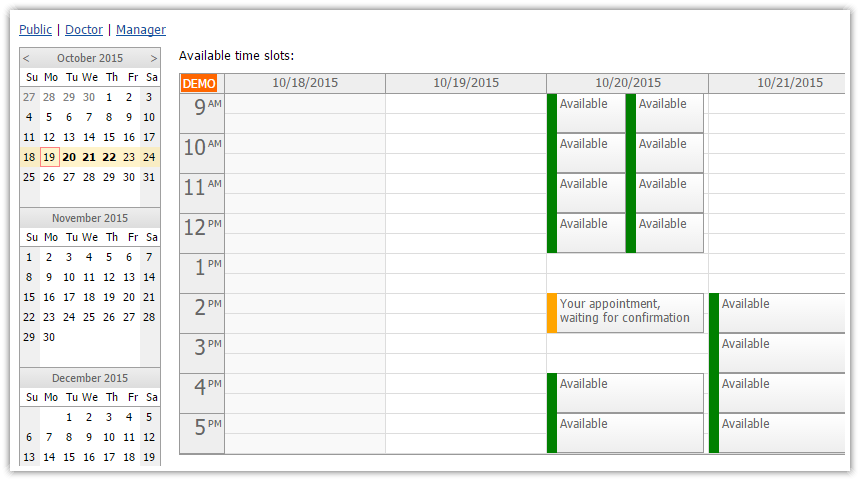 <div ng-app="main" ng-controller="DemoCtrl" >

    <div style="float:left; width:160px">
        <daypilot-navigator id="navigator" daypilot-config="navigatorConfig" daypilot-events="events"></daypilot-navigator>
    </div>
    <div style="margin-left: 160px">
        <div class="space">Available time slots:</div>
        <daypilot-calendar id="calendar" daypilot-config="calendarConfig" daypilot-events="events" ></daypilot-calendar>
    </div>
    
</div>

<script>
    var app = angular.module('main', ['daypilot']).controller('DemoCtrl', function($scope, $timeout, $http) {
        
    $scope.navigatorConfig = {
        selectMode: "week",
        showMonths: 3,
        skipMonths: 3,
        onTimeRangeSelected: function(args) {     
            loadEvents(args.start.firstDayOfWeek(), args.start.addDays(7));
        }
    };
    
    $scope.calendarConfig = {
        viewType: "Week",
        timeRangeSelectedHandling: "Disabled",
        eventMoveHandling: "Disabled",
        eventResizeHandling: "Disabled",
        onBeforeEventRender: function(args) {
            switch (args.data.tags.status) {
                case "free":
                    args.data.barColor = "green";
                    args.data.html = "Available";
                    args.data.toolTip = "Click to request this time slot";
                    break;
                case "waiting":
                    args.data.barColor = "orange";
                    args.data.html = "Your appointment, waiting for confirmation";
                    break;
                case "confirmed":
                    args.data.barColor = "#f41616";  // red            
                    args.data.html = "Your appointment, confirmed";
                    break;                            
            }
        },
        onEventClick: function(args) {
            
            if (args.e.tag("status") !== "free") {
                $scope.calendar.message("You can only request a new appointment in a free slot.");
                return;
            }
            
            var modal = new DayPilot.Modal({
                onClosed: function(args) {
                    if (args.result) {  // args.result is empty when modal is closed without submitting
                        loadEvents();
                    }
                }
            });

            modal.showUrl("appointment_request.php?id=" + args.e.id());
        }
    };

    $timeout(function() {
        loadEvents();
    });
    
    
    function loadEvents(day) {
        
        var start = $scope.navigator.visibleStart() > new DayPilot.Date() ? $scope.navigator.visibleStart() : new DayPilot.Date();
        
        var params = {
            start: start.toString(),
            end: $scope.navigator.visibleEnd().toString()
        };
        
        $http.post("backend_events_free.php", params).success(function(data) {
            if (day) {
                $scope.calendarConfig.startDate = day;
            }
            $scope.events = data;
        });   
    }
    
});

</script>