This tutorial shows how to create a complex event calendar UI with day, week, and month views. Includes PHP sample code.
Jun 30, 2015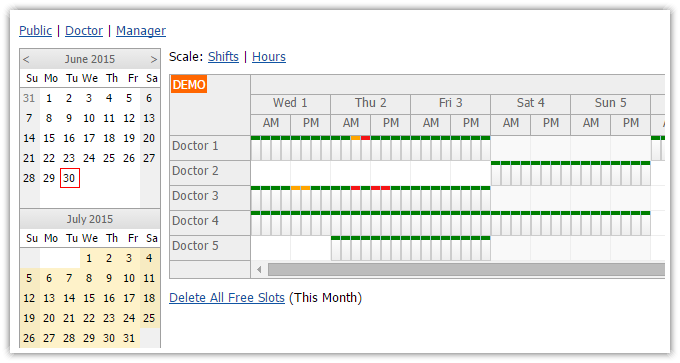 Features
Public interface for patients
Doctor's interface for managing appointments
Manager's interface for scheduling shifts
Using pre-defined appointment slots
Appointment status: "free", "waiting", "confirmed"
SQL Server database
Visual Studio 2013
C# source code
VB.NET source code
Includes the trial version of DayPilot Pro for ASP.NET WebForms
Source code of the tutorial is available for download.
Example: Generating Custom Timeline to Display Doctor Shifts and Appointment Slots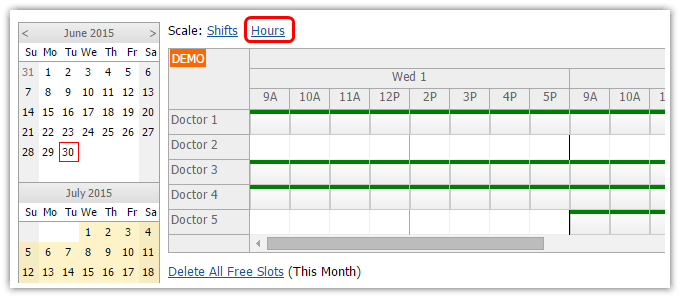 C#
private void LoadTimelineHours()
{

  DayPilotScheduler1.Scale = TimeScale.Manual;
  DayPilotScheduler1.Timeline.Clear();

  for (int i = 0; i < DayPilotScheduler1.Days; i++)
  {
      DateTime day = DayPilotScheduler1.StartDate.AddDays(i);

      for (int x = MorningShiftStarts; x < MorningShiftEnds; x++)
      {
          DayPilotScheduler1.Timeline.Add(day.AddHours(x), day.AddHours(x + 1));
      }
      for (int x = AfternoonShiftStarts; x < AfternoonShiftEnds; x++)
      {
          DayPilotScheduler1.Timeline.Add(day.AddHours(x), day.AddHours(x + 1));
      }

  }

  DayPilotScheduler1.TimeHeaders.Clear();
  DayPilotScheduler1.TimeHeaders.Add(new TimeHeader(GroupByEnum.Month));
  DayPilotScheduler1.TimeHeaders.Add(new TimeHeader(GroupByEnum.Day, "ddd d"));
  DayPilotScheduler1.TimeHeaders.Add(new TimeHeader(GroupByEnum.Hour, "ht"));

}
VB
Private Sub LoadTimelineHours()

  DayPilotScheduler1.Scale = TimeScale.Manual
  DayPilotScheduler1.Timeline.Clear()

  For i As Integer = 0 To DayPilotScheduler1.Days - 1
    Dim day As Date = DayPilotScheduler1.StartDate.AddDays(i)

    For x As Integer = MorningShiftStarts To MorningShiftEnds - 1
      DayPilotScheduler1.Timeline.Add(day.AddHours(x), day.AddHours(x + 1))
    Next x
    For x As Integer = AfternoonShiftStarts To AfternoonShiftEnds - 1
      DayPilotScheduler1.Timeline.Add(day.AddHours(x), day.AddHours(x + 1))
    Next x

  Next i

  DayPilotScheduler1.TimeHeaders.Clear()
  DayPilotScheduler1.TimeHeaders.Add(New TimeHeader(GroupByEnum.Month))
  DayPilotScheduler1.TimeHeaders.Add(New TimeHeader(GroupByEnum.Day, "ddd d"))
  DayPilotScheduler1.TimeHeaders.Add(New TimeHeader(GroupByEnum.Hour, "ht"))

End Sub