This tutorial shows how to create ASP.NET MVC 5 event calendar. Loading event data from SQL Server, drag and drop support (event creating, moving, resizing), integrated delete icon. Available with C# and VB source.
Jan 22, 2015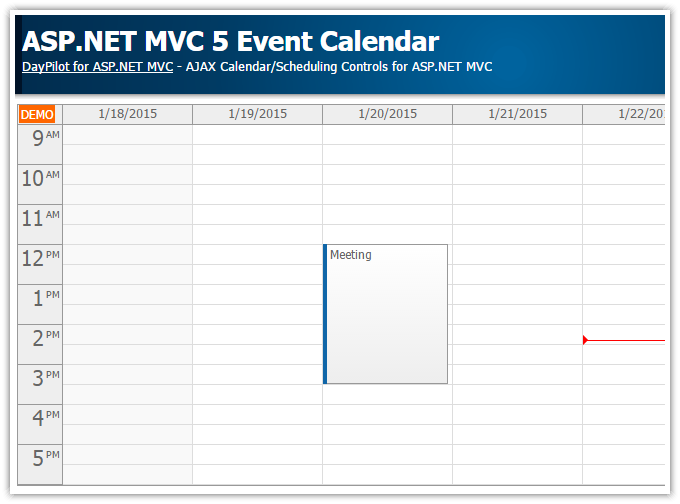 Features
ASP.NET MVC 5
Weekly event calendar
Drag and drop event creating
Drag and drop event moving
Drag and drop event resizing
Event deleting
Loading events from SQL Server database using LINQ to SQL
Source code of the tutorial is available for download.
Drag and Drop Event Moving Example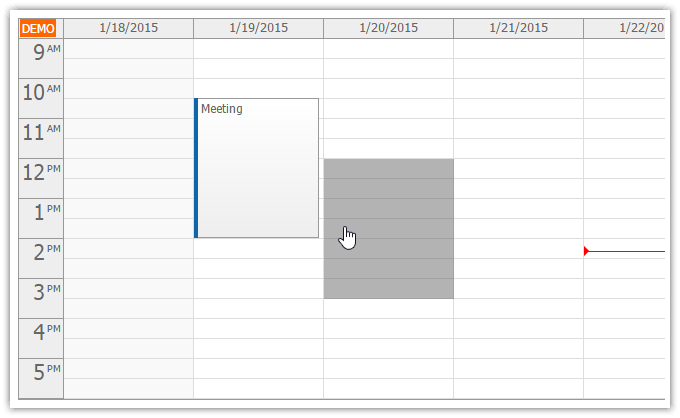 MVC View Configuration
C#
@Html.DayPilotCalendar("dp", new DayPilotCalendarConfig
{
    BackendUrl = Url.Action("Backend", "Calendar"),
    // ...
    EventMoveHandling = EventMoveHandlingType.Notify
})

VB
@Html.DayPilotCalendar("dp", New DayPilotCalendarConfig With
{
    .BackendUrl = Url.Action("Backend", "Calendar"),
    ' ...
    .EventMoveHandling = EventMoveHandlingType.Notify
})
MVC Controller
C#
protected override void OnEventMove(EventMoveArgs e)
{
  var item = (from ev in dc.Events where ev.Id == Convert.ToInt32(e.Id) select ev).First();
  if (item != null)
  {
      item.Start = e.NewStart;
      item.End = e.NewEnd;
      dc.SubmitChanges();                    
  }
}
VB
Protected Overrides Sub OnEventMove(ByVal e As EventMoveArgs)
  Dim item = ( _
      From ev In dc.Events _
      Where ev.Id = Convert.ToInt32(e.Id) _
      Select ev).First()
  If item IsNot Nothing Then
    item.Start = e.NewStart
    item.End = e.NewEnd
    dc.SubmitChanges()
  End If
End Sub