A new version of the AJAX calendar/scheduling widgets package for JavaScript/HTML5/jQuery.
Oct 6, 2015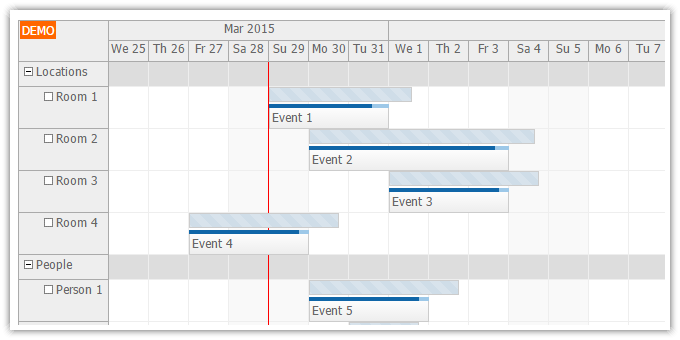 A new version of the AJAX calendar/scheduling widgets package for JavaScript/HTML5/jQuery was released.
What's New
Event versions demo added (Scheduler).
onBeforeCellRender implemented (Navigator).
fontColor property applied to the floating event div (Scheduler).
Active areas supported in floating event divs (Scheduler).
Original event active areas hidden when floating event div is active (Scheduler).
Scheduler AngularJS plugin uses preInit/postInit - allows specifying .scrollTo and .events properties in config.
.scrollToPosition, .scrollToAnimated properties supported in options - init(), jQuery, AngularJS (Scheduler)
"daypilot-events" attribute supported in element in AngularJS plugin.
Async validation implemented for onEventMove - args.async, args.loaded() (Scheduler).
More efficient free/busy update in AngularJS (Navigator).
...
See also the online demo:
You can download a trial version here:
Release notes: