This ASP.NET tutorial shows how to create a simple project management application using the ASP.NET Gantt chart control. Includes sample C# and VB.NET projects with source code.
Oct 21, 2014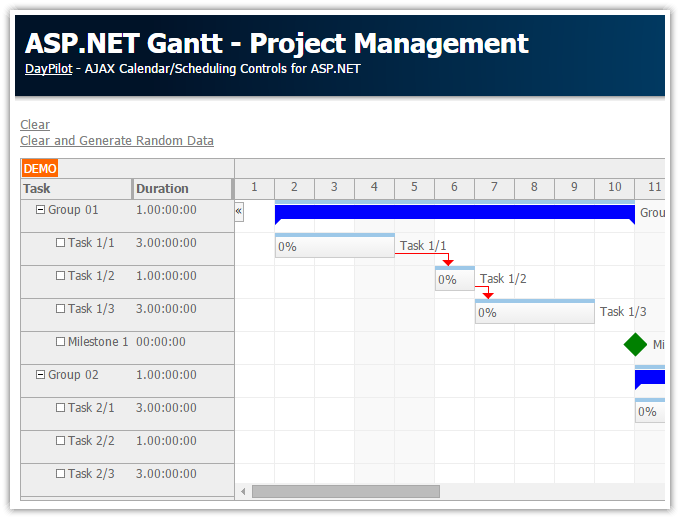 Features
ASP.NET Gantt Chart control
Drag and drop (task moving, resizing, link creating, row moving)
Dependencies (task links)
Task groups
Milestones
Task duration in a special column
Context menu for task creating and deleting
Visual Studio sample solution
C# source code
VB.NET source code
Visual Studio 2012 solution
Source code of the tutorial is available for download.
Example - Drag and Drop Row Moving

This example shows how to use the row drag and drop moving feature.
ASPX
<DayPilot:DayPilotGantt
    runat="server" 
    ID="Gantt"
    ...
    RowMoveHandling="Notify"
    />

C#
protected void Gantt_OnRowMove(object sender, RowMoveEventArgs e)
{
  const int max = Int32.MaxValue; // make sure it's greater than any other ordinal value

  Task sourceParent = Gantt.Tasks.FindParent(e.Source);
  Task targetParent = Gantt.Tasks.FindParent(e.Target);

  //DataRow sourceRow = DbGetTask(e.Source.Id);
  DataRow targetRow = Db.GetTask(e.Target.Id);

  string targetParentId = targetParent != null ? targetParent.Id : null;
  string sourceParentId = sourceParent != null ? sourceParent.Id : null;

  int targetOrdinal = (int) targetRow["ordinal"];

  switch (e.Position)
  {
      case RowMovePosition.Before:
          Db.UpdateTaskParent(e.Source.Id, targetParentId, targetOrdinal);
          break;
      case RowMovePosition.After:
          Db.UpdateTaskParent(e.Source.Id, targetParentId, targetOrdinal + 1);
          break;
      case RowMovePosition.Child:
          Db.UpdateTaskParent(e.Source.Id, e.Target.Id, max);
          targetParentId = e.Target.Id;
          break;
      case RowMovePosition.Forbidden:
          break;
      default:
          throw new ArgumentOutOfRangeException();
  }

  Db.CompactOrdinals(sourceParentId);
  if (sourceParentId != targetParentId)
  {
      Db.CompactOrdinals(targetParentId);
  }

}

VB
Protected Sub Gantt_OnRowMove(ByVal sender As Object, ByVal e As RowMoveEventArgs)
  Const max As Integer = Int32.MaxValue ' make sure it's greater than any other ordinal value

  Dim sourceParent As Task = Gantt.Tasks.FindParent(e.Source)
  Dim targetParent As Task = Gantt.Tasks.FindParent(e.Target)

  'DataRow sourceRow = DbGetTask(e.Source.Id);
  Dim targetRow As DataRow = Db.GetTask(e.Target.Id)

  Dim targetParentId As String = If(targetParent IsNot Nothing, targetParent.Id, Nothing)
  Dim sourceParentId As String = If(sourceParent IsNot Nothing, sourceParent.Id, Nothing)

  Dim targetOrdinal As Integer = DirectCast(targetRow("ordinal"), Integer)

  Select Case e.Position
    Case RowMovePosition.Before
      Db.UpdateTaskParent(e.Source.Id, targetParentId, targetOrdinal)
    Case RowMovePosition.After
      Db.UpdateTaskParent(e.Source.Id, targetParentId, targetOrdinal + 1)
    Case RowMovePosition.Child
      Db.UpdateTaskParent(e.Source.Id, e.Target.Id, max)
      targetParentId = e.Target.Id
    Case RowMovePosition.Forbidden
    Case Else
      Throw New ArgumentOutOfRangeException()
  End Select

  Db.CompactOrdinals(sourceParentId)
  If sourceParentId <> targetParentId Then
    Db.CompactOrdinals(targetParentId)
  End If

End Sub