This tutorial shows how to set up a scheduler control (with a timeline for multiple resources) in an AngularJS web application. Includes PHP sample code.
Mar 24, 2015
Features
AngularJS scheduler control
Displays resources on the vertical (Y) axis
Resources grouped by category (Tools, People)
Drag and drop event moving and resizing
Creating events using drag and drop (modal dialog)
Editing events using a modal dialog
Switching the visible month (Navigator)
Source code of the tutorial is available for download.
Example - Quick AngularJS Scheduler Setup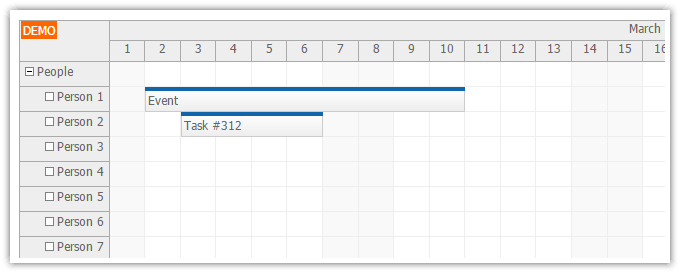 This example shows how to create the scheduler and load resources and calendar data.
HTML
<div ng-app="main" ng-controller="DemoCtrl" >
  <daypilot-scheduler id="scheduler" daypilot-config="schedulerConfig" daypilot-events="events" ></daypilot-scheduler>
</div>

AngularJS Controller
<script type="text/javascript">
  var app = angular.module('main', ['daypilot']).controller('DemoCtrl', function($scope, $timeout, $http) {
    $scope.schedulerConfig = {
      scale: "Day",
      days: new DayPilot.Date().daysInMonth(),
      startDate: new DayPilot.Date().firstDayOfMonth(),
      treeEnabled: true,
      timeHeaders: [
          { groupBy: "Month" },
          { groupBy: "Day", format: "d" }
      ]
    };
    
    $timeout(function() {
      loadResources();
      loadEvents($scope.scheduler.visibleStart(), $scope.scheduler.visibleEnd());
    });

    function loadEvents(from, to) {
      var params = {
          start: from.toString(),
          end: to.toString()
      };
      
      $http.post("backend_events.php", params).success(function(data) {
          $scope.schedulerConfig.startDate = from;
          $scope.schedulerConfig.days = Math.floor(new DayPilot.TimeSpan(to.getTime() - from.getTime()).totalDays());
          $scope.events = data;
      });   
    }    
    
    function loadResources() {
      $http.post("backend_resources.php").success(function(data) {
          $scope.schedulerConfig.resources = data;
      });
    }
    
  });
</script>