This tutorial shows how to create a complex event calendar UI with day, week, and month views. Includes PHP sample code.
Sep 21, 2015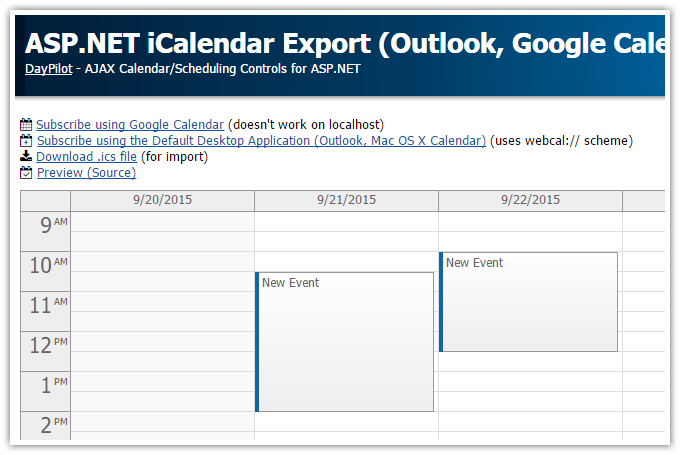 Features
Features
Export calendar events in iCalendar format
Subscribe using Microsoft Outlook
Subscribe using Mac OS X Calendar
Subscribe using Google Calendar
Import downloaded .ics file
Visual Studio 2015 sample project with source code
Includes the open-source DayPilot Lite for ASP.NET WebForms
Available under Apache Software License 2.0 (open-source)
Source code of the tutorial is available for download.
Sample Code: Generating Calendar Data in iCalendar Format
This example shows how to create an iCalendar feed using C#:
protected void Page_Load(object sender, EventArgs e)
{
  iCalendar iCal = new iCalendar();

  DataTable events = Db.LoadEvents(DateTime.Today.AddDays(-7), DateTime.MaxValue);

  foreach (DataRow dr in events.Rows)
  {
      Event evt = iCal.Create<Event>();
     
      evt.Start = new iCalDateTime((DateTime) dr["EventStart"]);
      evt.End = new iCalDateTime((DateTime) dr["EventEnd"]);
      evt.Description = (string)dr["EventName"];
  }

  iCalendarSerializer serializer = new iCalendarSerializer();
  string output = serializer.SerializeToString(iCal);

  Response.ContentType = "text/calendar";
  Response.Write(output);
  Response.End();

}