A new version of the AJAX calendar/scheduling widgets package for JavaScript/HTML5/jQuery/Angular.
Nov 29, 2016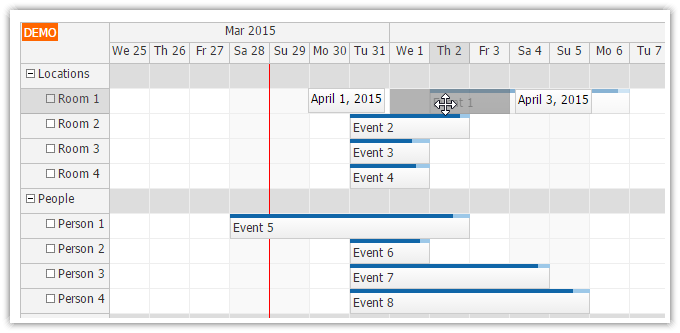 A new version of the AJAX calendar/scheduling widgets package for JavaScript/HTML5/jQuery/Angular was released.
What's New
[Scheduler] Inplace event update forced for inline event editing (Scheduler).
[Scheduler] Image export of event active areas supported (Scheduler).
New active area properties supported: padding (in pixels), fontColor.
[Scheduler] Immediate UI update after drop during event moving and resizing (Scheduler).
[Scheduler] .rows.filter() can be called before .init() (Scheduler).
DayPilot.Modal: onClose(args) with support for args.backgroundClick, args.preventDefault().
[Navigator] Navigator supports free-hand selection (drag and drop).
[Scheduler] DayPilot.Scheduler.beforeCellRenderCaching property added (true).
See also the online demo:
You can download a trial version here:
Release notes: