A new version of the Timetable for ASP.NET tutorial. Sample web application with C# and VB.NET source code. Includes a Microsoft SQL Server database.
Jan 19, 2014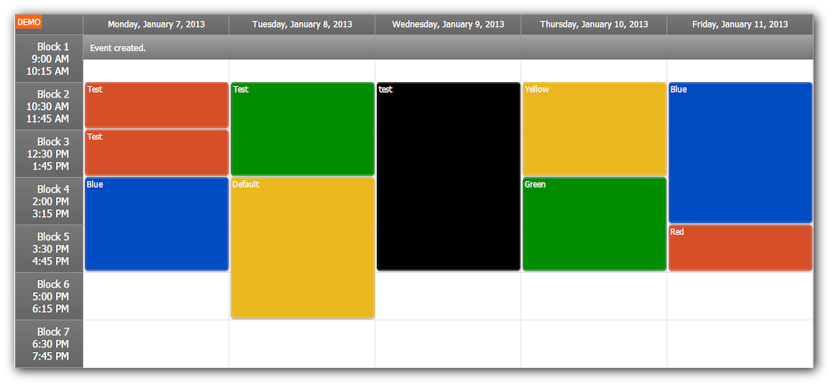 This tutorial shows how to create a weekly timetable in an ASP.NET/HTML5 web application using DayPilot event calendar ASP.NET control. It supports custom time slots (blocks), drag&drop event moving and resizing, and custom event colors. Styled using a CSS3 theme.
Tutorial:
The tutorial was updated:
Visual Studio 2012 Solution (LocalDB database connection)
DayPilot Pro for ASP.NET WebForms 7.6 Trial
Features:
Weekly timetable view
Displays blocks with custom size (block number is mapped to the hour component of the DateTime)
Inline block properties editing (using hover hints).
Integrates DayPilot Navigator control for switching the current week.
Custom event color in combination with CssOnly mode (CSS styling).
Loads data (events and blocks) from Microsoft SQL Server database.
Full calendar CSS3 styling.
C# and VB.NET source code included.
Sample SQL Server database included.
A sample Visual Studio 2010 and Visual Studio 2012 solution is available for download.