This tutorial shows how to create a complex event calendar UI with day, week, and month views. Includes PHP sample code.
Jun 15, 2015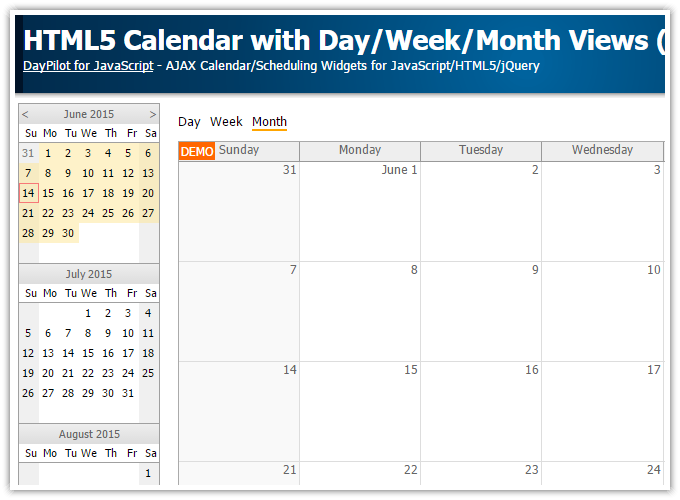 Features
day view
week view
month view
date navigator
drag and drop event creating, moving and resizing enabled
loading events using built-in .event.load()
PHP backend
SQLite sample database
Source code of the tutorial is available for download.
Example (JavaScript/HTML)
HTML5
<div style="float:left; width: 160px;">
    <div id="nav"></div>
</div>
<div style="margin-left: 160px;">
    <div class="space buttons">
        <a id="buttonDay" href="#">Day</a>
        <a id="buttonWeek" href="#">Week</a>
        <a id="buttonMonth" href="#">Month</a>
    </div>
    <div id="dpDay"></div>
    <div id="dpWeek"></div>
    <div id="dpMonth"></div>
</div>

JavaScript
<script type="text/javascript">

  // initialize the date navigator
  var nav = new DayPilot.Navigator("nav");
  nav.showMonths = 3;
  nav.skipMonths = 3;
  nav.init();
                 
  // initialize the day view
  var day = new DayPilot.Calendar("dpDay");
  day.viewType = "Day";
  addEventHandlers(day);
  day.init();

  // initialize the week view
  var week = new DayPilot.Calendar("dpWeek");
  week.viewType = "Week";
  addEventHandlers(week);
  week.init();

  // initialize the month view
  var month = new DayPilot.Month("dpMonth");
  addEventHandlers(month);
  month.init();

  // ...

  var switcher = new DayPilot.Switcher({
      triggers: [
          {id: "buttonDay", view: day },    // link buttonDay to day view
          {id: "buttonWeek", view: week},   // link buttonWeek to week view
          {id: "buttonMonth", view: month}  // link buttonMonth to month view
      ],
      navigator: nav,
      selectedClass: "selected-button",  // add this class to the selected trigger
      onChanged: function(args) {
          switcher.events.load("backend_events.php");   // action to be performed when the view or date changes - reload the events for the current view
      }
  });
  
  switcher.select("buttonWeek");

</script>